[EMonthly #3] EMetrics is live!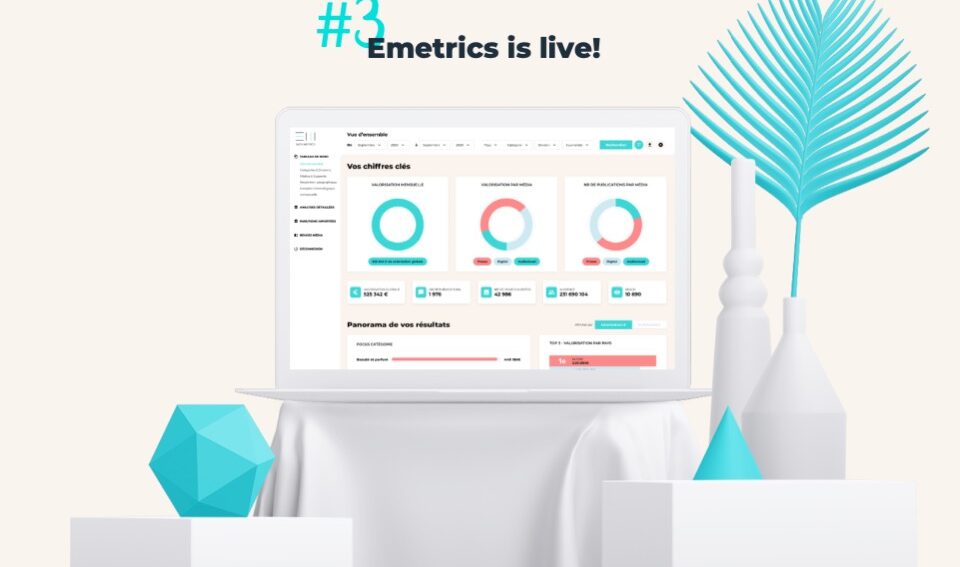 A special issue for a very special piece of news… EMetrics is now live!
What is EMetrics? It is the last-born of Estimation Média's tools, made by our team, especially for you: our clients.
Our data visualisation space was rethought to enhance your data even more.
Its key features? EMetrics still enables you to discover the key performance indicators of your media studies in real time; but not only that! Among the new functionalities, we have unveiled for you media ecosystems, personalized reports and more…
Join our world and discover EMetrics with EMy!

ABC
Editorial value
This is THE data which enables you to estimate your return on investment. Our calculation is tailor-made for your brand. For print, web and audiovisual medium, it corresponds to the Advertising Value Equivalency (AVE) for a given page surface, time or online presence. As for social media, it is based on the Earned Media Value (EMV).
Publication
Print articles, fashion shoots, TV and radio broadcasts, web articles, mentions in newsletters, posts and stories… All are considered a publication and account for one media presence of your brand. Estimation Média keeps a close eye on all media types and provides you with a 360-degree vision on these publications.
Reach
You could define it as audience's younger sister. The reach is an indicator used to estimate the number of people targeted by a publication. While the audience corresponds to the maximum impact of your media presence and equals the number of readers, unique visitors or followers, the reach only retains a percentage of these which varies depending on the media type.
Découvrez EMetrics
A new look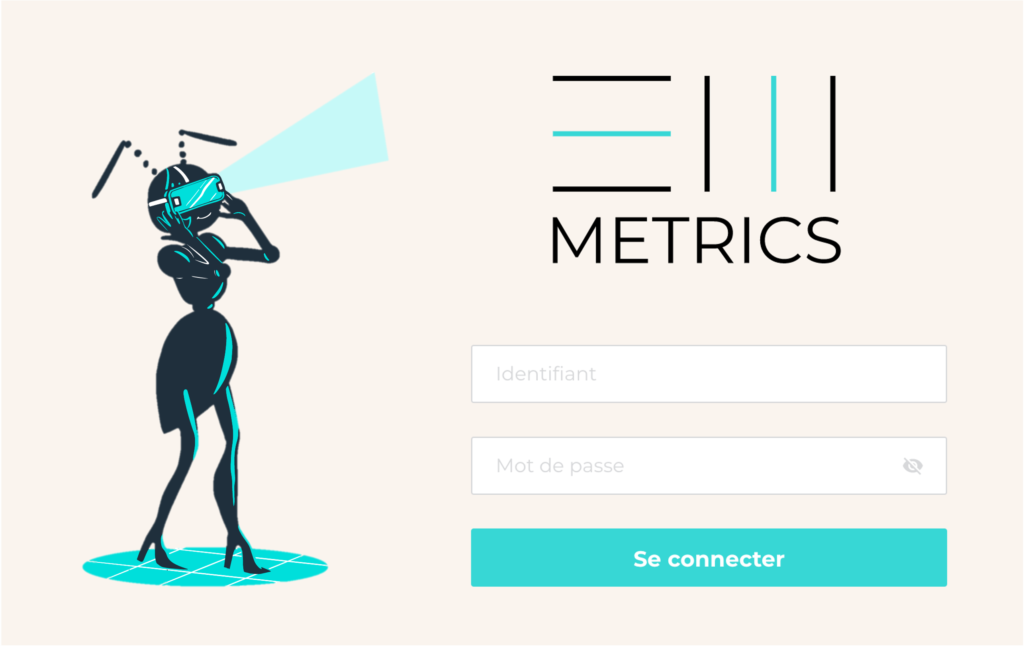 See life in full color!
With the launch of EMetrics, Estimation Média unveils a brand new look for a smooth read. Mix business with pleasure and enjoy an experience which will please both your eyes and your mind.
Login and enter our world, because it is also yours!
Your KPIs in the blink of an eye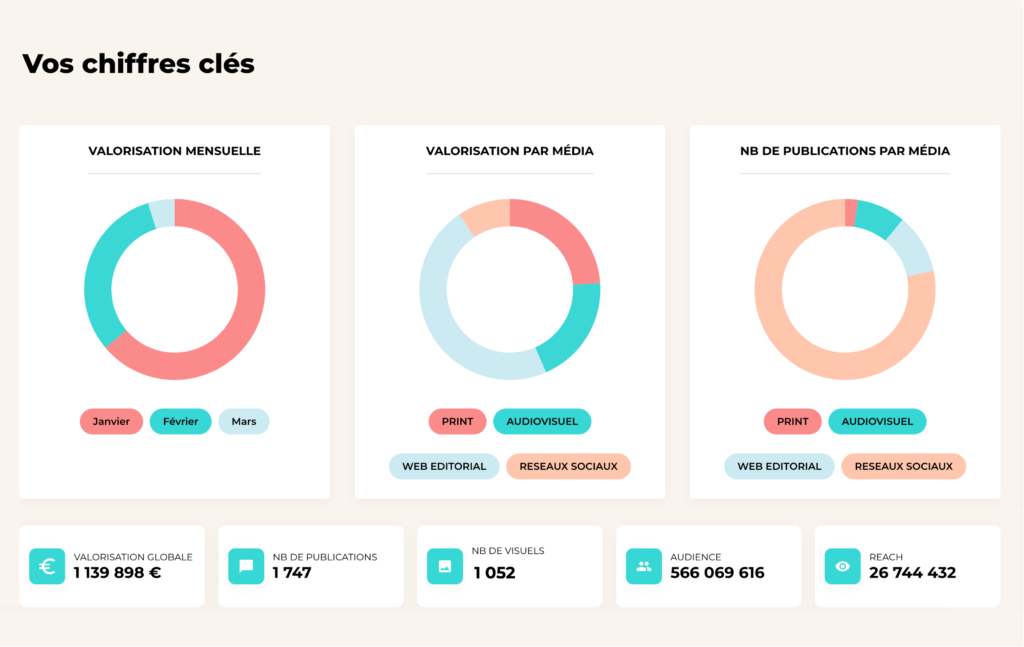 Welcome to your online space!
In the blink of an eye, discover all of your key performance indicators: editorial value, number of publications, audience, reach… It is all there, in real time.
After all, data visualisation is also our core business!
360-degree vision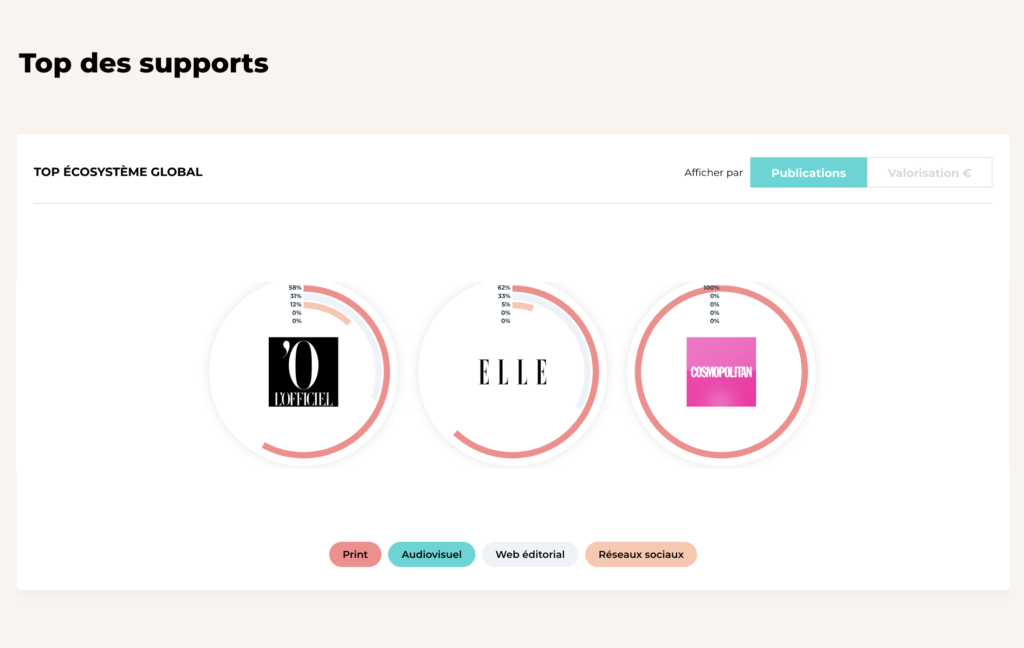 We are eager to follow media trends and news in order to meet your evolving needs. In a world with multiple communication channels, it is essential to provide you with 360-degree media studies.
So think out of the box and see it all through the lense of media ecosystems.
Print, web, audiovisual and social media publications… You won't miss a thing!
Made-to-measure automated reports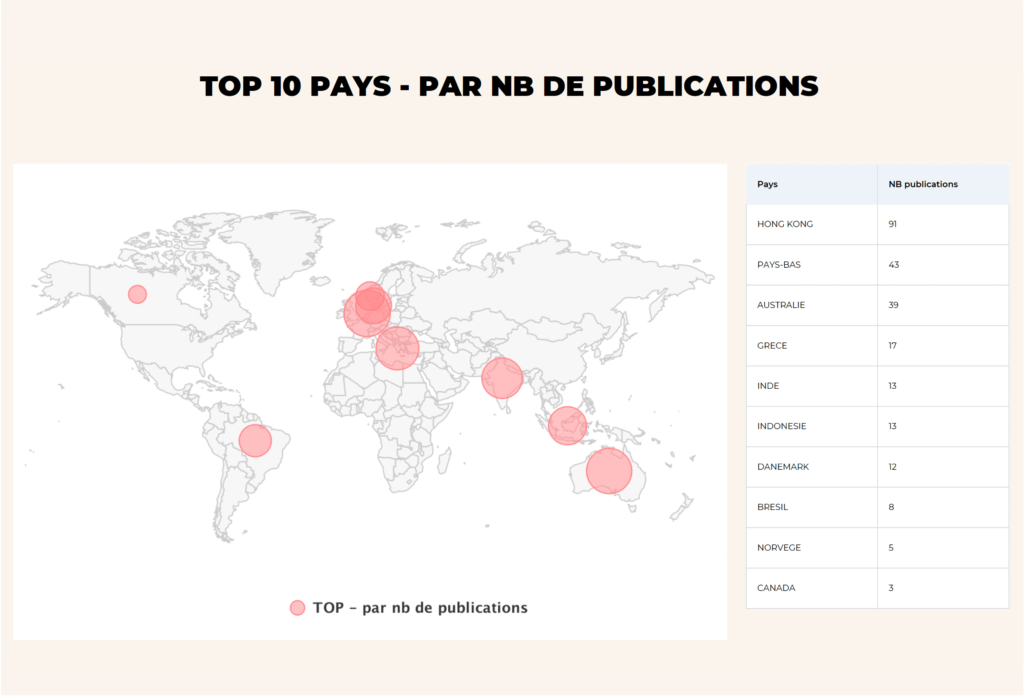 We made it for you! Search and download a complete report with all the data you could ask for within a few minutes.
Easy Excel reports to work with and beautiful PDF presentations to pitch at your next meeting!
Though we love digital communication, there is nothing better than a conversation!
Interested by EMetrics? This is just a glimpse!
Contact us and ask for a demo. The Estimation Média team will be delighted to answer your questions and draft you an estimate for a custom media study.
Do not miss EMonthly's next selection, subscribe here!